If you've ever felt a sniffle or virus coming on… you've probably wondered…
Should you skip your workout when you're sick?
Good question!
Actually this very question was asked yesterday by one of BelizeFitBodyClinic.com's bootcampers hence the reason I decided to address it in this post, enjoy 🙂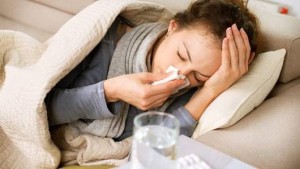 Here's a general rule of thumb when you're feeling under the weather:
IF YOUR SYMPTOMS ARE ABOVE THE NECK (SNEEZING, RUNNY NOSE, SORE THROAT): PROCEED WITH CAUTION
You've probably heard the old school saying… "Just sweat it out"
This can work… however as mentioned above PROCEED WITH CAUTION!
If you have a cold symptoms (like running nose or congestion) and you're just feeling a bit off… reduce your workout intensity and proceed with caution. You might be feeling weak, so it's not a good idea to push yourself and do a super crazy high intensity workout. Keep it short, body weight only. Even light cardio like walking or bike can be helpful (try to stay indoors if possible – going out and doing cardio in the cold will more than likely make your symptoms worse.)
Now, make sure you shower immediately after your workout. (I highly recommend you do that even if you're not sick, especially if you train at commercial gym! Trust me, even the cleanest looking gym is disgusting…)
Try to stay inside out of the cold for at least an hour after you exercise, since your resistance tends to drops just after your workout (before it builds itself back up to become stronger).
IF YOUR SYMPTOMS ARE BELOW THE NECK (FLU-LIKE, OR FEVER): RAIN CHECK
If you ever have a fever, DO NOT EXERCISE.
Why?
Your internal thermostat is malfunctioning and there are a bunch of unusual chemical reactions going on in your brain (that's why you feel freezing even if you have a temp of 104 degrees).
When you exercise, you are generating heat and energy. Even if you only have a slight fever, your internal thermostat is unable to correctly measure your body temp and adjust accordingly.
So basically, you run the risk of frying your brain. This is really serious. No workout is worth permanently damaging yourself and cooking your insides. Take a time out, rest up and come back when you're feeling stronger.
Now, if you're already sick, please stay home. The worst thing you can do is show up to the gym in a near death like state and cough and splutter all over the place.
If you're like me, you want to do everything you can to recover from being sick and get back into your routine as quickly as possible.
That's why it's extra important to make sure your nutrition is dialed in, so you can minimize the downtime.
Here's what I do:
#1: YOU NEED TO GET MORE SLEEP!
Let's hit the most important one first. Lack of sleep is one of the biggest downfalls I see in my clients. Not getting enough sleep will slow fat loss, slow recovery time and make you vulnerable to picking up viruses.
So do yourself a favor, and please try to get at least 7-8 hours sleep. Honestly, you know this. This isn't brand new ground breaking information – I'll bet you've heard this plenty of times before. Make sure you hit the sack before 11pm at the LATEST No iPhones. No emails. No Facebook. Just sleep.
#2: EAT GREENS
Eat 8-10 servings of leafy green vegetables every day. Again, nothing new here. Just super important you actually do it! Especially when you're sick. Start your morning with a green juice. It's easy on your stomach, and a fast, simple way to get a boatload of nutrients in your body. Plus, the antioxidants boost will give your body extra help in fighting the cooties, and speeding up your recovery.
#3: DRINK TEA
Drink organic chamomile tea with raw organic honey (from your local Farmer's market, if possible). This will help soothe your throat. Any kind of herbal tea is fine, just make sure the leaves are organic.
#4: CHICKEN SOUP
Chicken soup? Yep, eat it. I was skeptical about this one… since I'm not aware of any scientific research that has been done to prove it's effectiveness… However, there is something magical about it! Eating chicken soup simply makes you feel better.
And you know what's even better? When someone else makes it for you

#5: DRINK AT LEAST 100 OUNCES (3 LITERS) OF WATER.
Again… it's a no-brainer! However it's especially important to drink more water if you have a fever or nausea/vomiting, since you're losing water, too.
And remember… do not take any decongestant medication, since it has a dehydrating effect.
Will I lose my fitness if I stop working out?
Yes, the bad news is getting sick will slow your progress. But hey, that's life. Obstacles will always come up on your journey, and this is just one of them.
How long will it take to get back up to speed?
Everyone is different, of course. And the rate at which you regain your strength and cardio fitness will depend how fit you were in the first place.
That's why it's important to pay attention to how you feel when you're exercising, and adjust your intensity accordingly.
Start back by reducing your volume and intensity for the first couple of workouts after coming back from a virus. Don't just pick up where you left off…